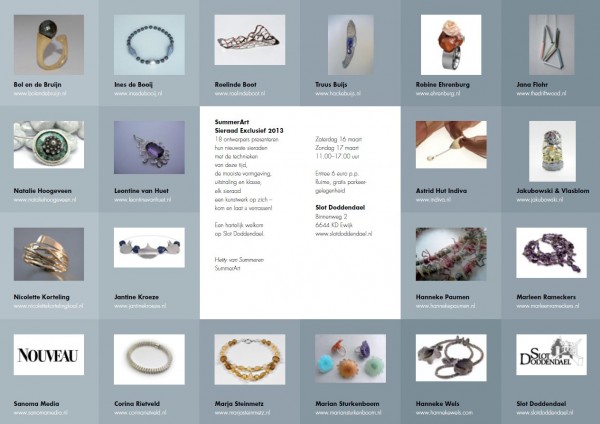 Ik ben nu druk bezig met de voorbereiding voor de expositie in Ewijk van komend weekeinde. Eerst teken ik op de grond van  mijn atelier de afmetingen van mijn plek. Voor Slot Doddendael is dat 150 bij 200 cm. Dan ga ik passen en meten. Het is vaak een hele organisatie. Hoeveel sokkel passen erop? Laat ik wel of niet een filmpje zien? Folders? Prijskaartjes, visitekaartjes, doosjes, handgemaakte zakjes om het verkochte sieraad in mee te geven etc. Als laatste poets ik mijn sieraden op, ze  moeten er een beetje "shiny" uitzien.
Wil je weten wat het resultaat is? Kom dan volgende week kijken op <a href="http://www.summerart.nl/index1.html" target="_blank">Sieraad Exlusief</a> in slot Doddendael in Ewijk.
Open van 11 tot 17 uur.
Trackbacks and pingbacks
No trackback or pingback available for this article.
Nieuws-Projecten-CityJewels4Me
Laatste Tweets
Come preparare le #immagini di un articolo #WordPress per la #condivisione sui #social? Consigli utili da… https://t.co/y6CizYhvPz


Consigli utili su 8 #errori poco noti ma comunque da evitare in un sito #WordPress https://t.co/2kl3H0Mnvh https://t.co/sgFKKbeZR7