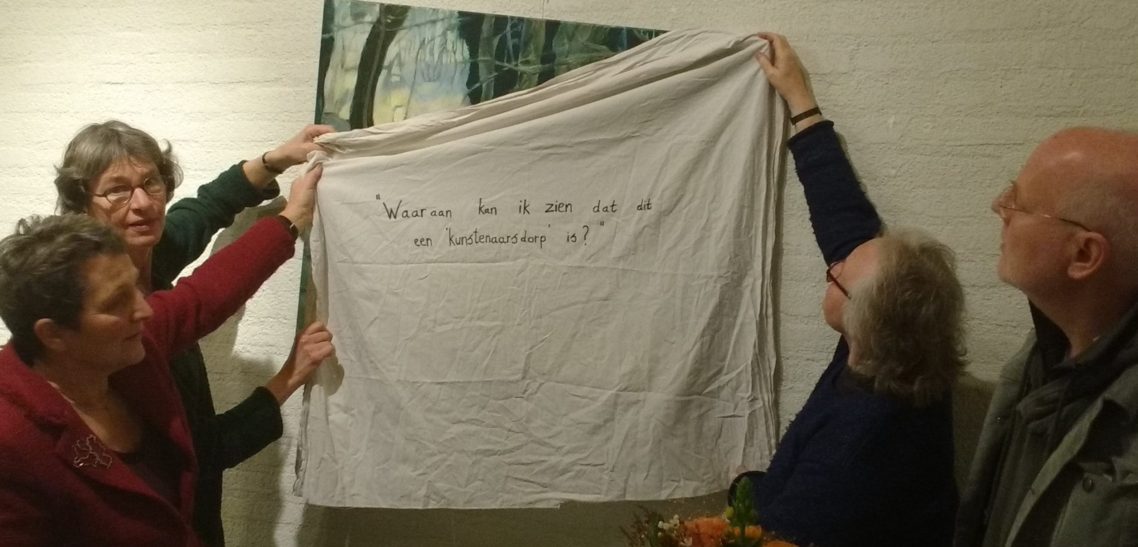 Actie voeren is best spannend. Gisteren tijdens de nieuwjaarsreceptie in het gemeentehuis in Oosterbeek 6 doeken over schilderijen gehangen.
Dit uit boosheid, omdat de expositieruimte gaat sluiten. Een passend alternatief heeft de gemeente niet en men draagt cultuur de laatste tijd geen erg warm hart toe. Wel in woorden, maar niet in daden. In het geheim heb ik met 5 andere kunstenaars deze actie voorbereid. Na het praatje van de burgemeester was het moment daar en hebben we lakens met slogans erop over de schilderijen gehangen. Zie Gelderlander (zie artikel). Het staat vandaag in de krant; we hebben ons doel bereikt!
Making protest is quite exciting. During the New Year's reception in the Town Hall in Oosterbeek we  hung 6 cloths over some paintings.We are angry, because the exhibition space will close within e few days. There is no suitable alternative. Secretly I prepared this action with five other artists. After the conversation of the mayor we hung the sheets with slogans over the paintings. Today it is news in the newspaper the Gelderlander; we have achieved our goal!
Nieuws-Projecten-CityJewels4Me
Laatste Tweets
Come preparare le #immagini di un articolo #WordPress per la #condivisione sui #social? Consigli utili da… https://t.co/y6CizYhvPz


Consigli utili su 8 #errori poco noti ma comunque da evitare in un sito #WordPress https://t.co/2kl3H0Mnvh https://t.co/sgFKKbeZR7